Do You have Opinions on the role of Voluntary Organisations in publicly funded health and social care?
Now's your chance to have your say.
The Minister for Health has established an Independent Review Group to inquire into the role of voluntary organisations in the provision of health and personal social services. The group has been asked to look at current arrangements with regard to the role of voluntary agencies in the provision of services across the health and social care sector; to consider the issues currently arising and those likely to arise in the future; and to make recommendations on how the relationship between the State and voluntary organisations should evolve in the future.
Have your say: To help inform its analysis, the Independent Review Group is seeking the views of
service providers
service users
the public
funders
regulators
and other interested parties.
Please complete the online questionnaire.
You can request the questionnaire in paper format OR you may also write a submission yourself.
Closing date: The final date for return of the questionnaire is 5pm, Friday 4 May 2018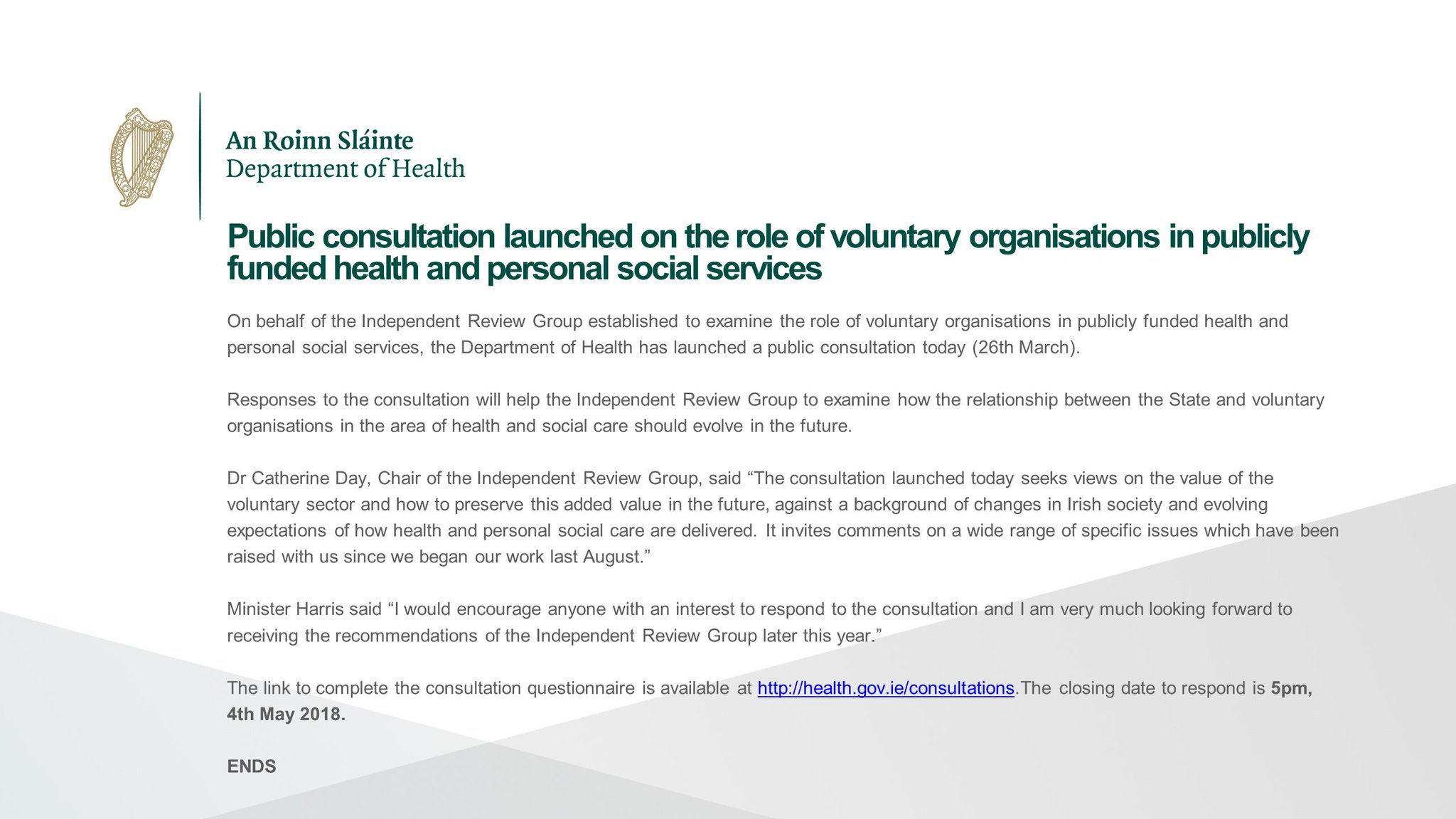 To request a Microsoft Word™ version or paper copy of this consultation questionnaire be sent to you by contacting the Secretariat to the Independent Review Group at voluntaryorganisationsconsultation@health.gov.ie, by telephone at 01-6354418 or at the following postal address:
Secretariat to the Independent Review Group established to examine the role of voluntary organisations in publicly funded health and social services in Ireland
Room 4.24
Department of Health
Hawkins House
Dublin 2
D02 VW90
The Secretariat is also available to answer any queries relating to this consultation.
If you'd rather wish to make a submission rather than completing the consultation questionnaire, the department ask that it is set out in accordance with the structure above and email it to voluntaryorganisationsconsultation@health.gov.ie by 5pm, 4 May 2018.