May 31st 2019                                                                                            Vol 2, Issue 3
Inside this issue:
What's

Happening

Diary

Dates/Events

Funding

Training & Opportunities

Consultations
What's Happening
Local and European elections are over and exams are about to start. Good Luck to everyone sitting Leaving and Junior papers over the next couple of weeks. Just relax and do your best. Check out the Funding and Opportunities link below for news about adult training – and funding for tackling educational disadvantage.
It's been a busy time for communities with lots of funding application closing dates over the past fortnight. We hope you got your forms in and good luck with the funding.
Plenty happening over this weekend and coming into June and remember to support the local community events. They important for your town or village as well as being of interest to visitors. See the events and diary dates for items of interest.
Bank Holidays are notorious for road traffic accidents so BE SAFE and SLOW DOWN.
Have a great long weekend.
Charities:
The Charities sector is facing big changes this year with the introduction of the new Governance Regulations. Charities will be expected to comply with these from 2020. There are 49 charities registered in Leitrim and 17 of these are Leitrim PPN Members. A toolkit has been supplied by the Charities Regulator and this is available on our website: CLICK HERE. Some of the information is useful to all community groups even if you're not a charity.
Local Environmental Networks and Biodiversity News:
Groups from Leitrim, Sligo and Donegal showcased and shared their local environmental work recently in Bundoran – CLICK HERE.
There are a few biodiversity/green funds open at present and Birdwatch Ireland  and the Heritage Council have released a lovely guide for communities and individuals on Saving Swifts. For the link to our website – CLICK HERE.
ESB Energy for Generations Fund
Charities working in the areas of suicide prevention, homelessness and education access and support can apply to this Fund for project specific funding.
Every quarter ESB allocates an amount from the Fund for disbursement. Applications submitted during each quarter are appraised at the end of the quarter and funding allocated accordingly.
The next quarterly closing date for applications is the 14th of June 2019.
More information about the Energy For Generations Fund , how to apply and the quarterly deadlines for this year, is available on the Leitrim PPN website at the link below.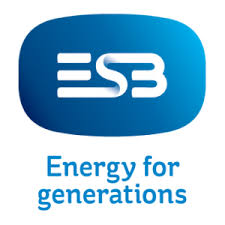 EPA Green Enterprise Call
The EPA-led Green Enterprise: Innovation for a Circular Economy funding programme will provide grant-aid to demonstration type projects. Where possible projects should take a collaborative approach with input from research organisations and enterprises across the value chain. Grants of up to € 100 K available. Closing date for submissions is 27th June 2019. 
More information about the this call, how to apply, deadlines, criteria, etc. see the Leitrim PPN website at the link below.
Biodiversity Fund – Community Foundation Ireland
The Community Foundation for Ireland (CFI) is offering a new €200k grant fund for community groups to get them working with ecologists to develop a local biodiversity plan for their townland. Grants get bigger if they collaborate with farmers on hedgerows/field margins. The grants scheme has been devised to enhance biodiversity in communities throughout the country by combining the expertise of qualified ecologists with the skills, experience and enthusiasm of local community groups.
This is CFI's first ever nature grant and they are actively seeking applicants. The closing date for applications is June 28th.
More information about the Energy For Generations Fund , how to apply and the quarterly deadlines for this year, is available on the Leitrim PPN website at the link below.
Gambling Awareness Trust Funding
The Gambling Awareness Trust is now accepting Expressions of Interest from service providers seeking funding to provide any of the following services;
Phone counselling service 7 days a week

Face-to-face counselling sessions Nationwide

Promote general public awareness about gambling and risks

Provide education and early-prevention work

Provide relapse prevention

Offer support online with self-help and mutual aid initiatives

Conduct National gambling research & prevalence study
Closing date for submissions is 5th July 2019. 
More information about the this call, how to apply, click the Leitrim PPN website link below.
Coca Cola Thank You Fund
This year, grants totalling €100,000 will be awarded by the Coca-cola Thank You Fundto projects under the categories of education and training, diversity and inclusion in young people, and those with an innovative approach to demonstrating sustainability.This year is going to be a big year for the Coca-Cola Thank You Fund. With the scheme set to hit €1,000,000 in donations to youth-oriented non-profits since it first began in 2011.
Applications for funding can be made until midnight on Friday the 12th of July 2019.
More information is available on the Leitrim PPN website at the link below.
Europe for Citizens
The full list of current Europe For Citizens funding deadlines is as follows:
Civil Society Projects: 2 September 2019
Town Twinning:  2 September 2019 and 3 February 2020
Network of Towns: 2 September 2019 and 2 March 2020
European Remembrance: 3 February 2020
For more information on deadlines, programme priorities, types of projects and eligibility periods, and contacts see – 
Leitrim PPN article CLICK HERE
Hospitality QQI Level 5 – Open Day
Leitrim Development Company is holding an Open Day for thier QQI level5 Hospitality Operations on the 28th of June 2019 in the Food Hub, Drumshanbo between 10am and 12pm. This course offers a range of opportunities in the hotel and catering industry. All are welcome to attend to meet current learners, tutors and to see the training facility. For further information please contact Jeanette on 071 9641770 or email Jeanette@ldco.ie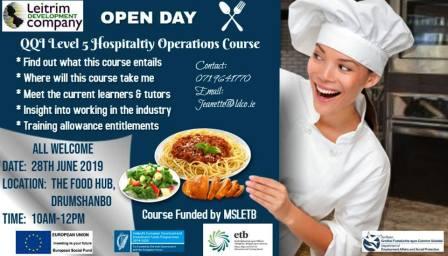 ASIST – Suicide Intervention Training
Available to community and individuals. Next programme is in Manorhamilton on 18th and 19th June.
Leitrim PPN article CLICK HERE
Drug & Alcohol Awareness Training
Are you concerned about the use of drugs and alcohol in your community? Do you need more information or training around some of the issues and challenges faced?
If you are interested in developing skills in these areas, the North West Regional Drug and Alcohol Task Force is offering training and education that can be delivered in your area. All the short courses are delivered free of charge except for QQI Level 5 training.
More information is available on the Leitrim PPN website at the link below.
Leitrim Forestry Study – UCD
REMINDER – Only 7 days left to submit.
County Leitrim's local communities, farmers, residents and people working in the county are being urged to make their views heard as part of the study into forestry in the county which is currently underway.
The study is being carried out by University College Dublin (UCD) and aims to asseess the level of afforestation in the county.
The deadline for submitting comments via the web, or in writing is Friday the 7th of June 2019.
More details about the study, where to make written submissions, or comment via the web are available on the Leitrim PPN website at the link below.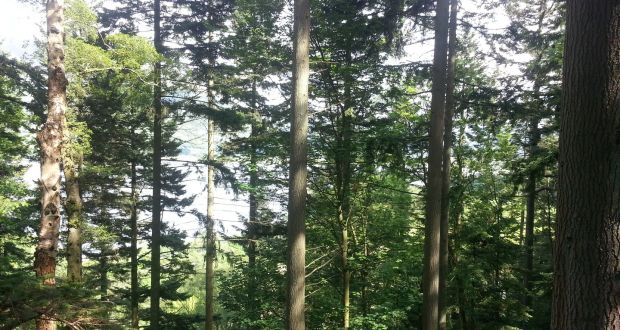 Travellers, Towards a More Equitable Ireland
The Seanad Public Consultation Committee invites written submissions on Travellers, towards a more equitable Ireland. Deadline for submissions is Friday 14th June 2019
More information is available on the Leitrim PPN website at the link below.
We do our best to publish the local and most relevant funding opportunities in the newsletter. There are others. Remember to keep an eye on our Facebook or Twitter and Instagram accounts and the website: www.leitirimppn.ie
Copyright © 2019 Leitrim Public Participation Network, All rights reserved.
Our mailing address is:
info@leitrimppn.ie
Want to change how you receive these emails?
If you would rather not receive these newsletters please email us and you will be opted out.